Google Ads is rolling out Search themes for Pmax in Beta. Search themes are an innovative, optional signal that you can use when launching the Pmax campaign to inform the AI about your business sector and ideal buyer personas. This feature can help the AI algorithm expand its reach across all channels to relevant audiences.
Performance Max currently accesses all the advertiser's Google Ads inventory with a single campaign. It combines Google AI technology with bidding strategies, optimization, audience signals, creatives, signals, and many more. The goal of this campaign is to optimize performance in real-time according to your specific goals and to deliver more conversions.
Moreover, learn how to create Performance Max audience signals that convert.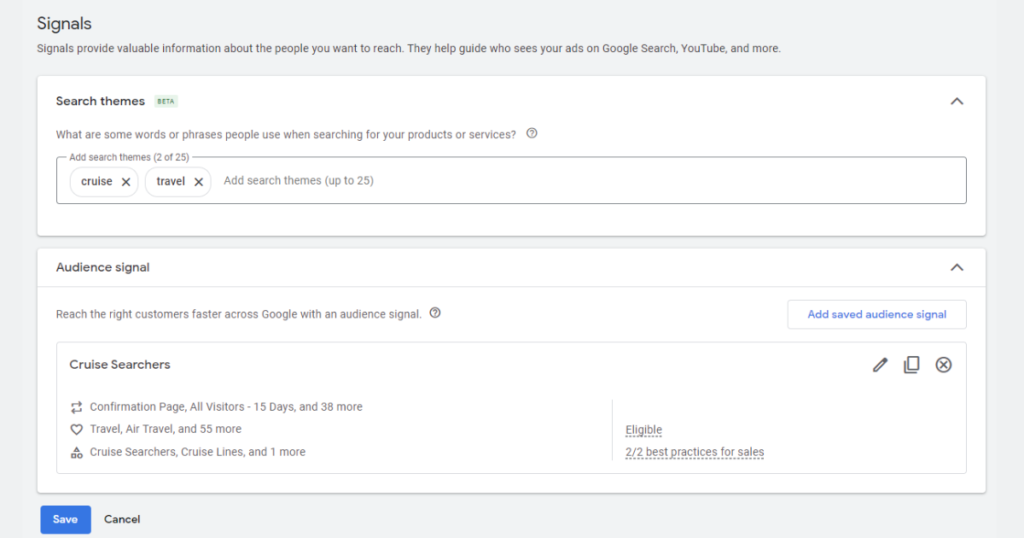 Search themes in Performance Max will be a new way to help Google AI understand your business better. This can be very useful if you have new products or services, or if you're entering a new market. Search Themes can also help you expand your reach and help you rank for important search terms you may not otherwise be targeting.
Search themes will respect brand exclusions and account-level negative keywords and are a good addition to the existing Pmax queries that match the URLs, assets, feeds, and audience signals. They are limited to 25 search themes per Performance Max asset group. If you have more than one asset group in your Pmax, you can customize the search terms for each of them.
In terms of prioritization over audience signals, search themes will have the same prioritization rules as phrase & broad match keywords rank currently. Right now, an exact match is prioritized over a phrased or broad match keyword or a Performance Max campaign.
In early 2024, custom segments will be automatically replaced by search themes considering the existing search activity recorded by the campaign up to that date.
And lastly, search terms insights and guidance around search themes will be introduced early next year.
You can read more about search themes here. We hope you are not making these 8 most common mistakes we have seen in Performance Max campaigns.